2023 Annual Meeting – Navigating Change
If you missed the 2023 Annual Meeting of Members, you can review the reports given  in these links:
2023 Treasurer Report - click here to review video
2023 President Report - click here to review video
2023 General Manager Report - click here to review video
Winner Announced of the Annual Meeting Survey Drawing for a $50 bill Credit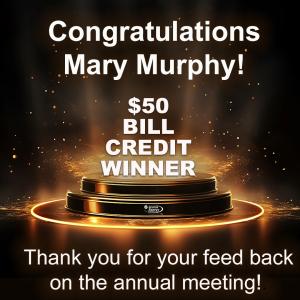 You Can Enter the Drawing Even if You Didn't Attend the Meeting
Meeting and Election Report
"The important point to remember is that as a not-for-profit cooperative, Access Energy Cooperative is not interested in selling members something you don't need. We are not about maximizing sales; we're about maximizing member satisfaction. As we Navigate Change and challenges, we strive to uphold our mission to exceed our members' expectations for safe, reliable, efficient service," stated Kevin Wheeler, General Manager/CEO, during his report to the members of Access Energy Cooperative at the 2023 Access Energy Cooperative Annual Meeting of Members at McMillan Park in Mt. Pleasant on August 1, 2023.
Jake McVey put on a great show for the evening. After he sang the National Anthem, parachuter Bobbi Reid landed in the grassy area near the stage to open the meeting. A great meal was served by Mount Pleasant Hy-Vee. Homemade ice cream from Hinterland Dairy of Donnellson was served. Kids enjoyed inflatable activities from Fields of Fun, pony rides by Windy Acres, and Drive-a-Tractor by the Proennecke brothers and Dick McGohan. Members visited with people from the Henry County Health Center, the Henry County Sheriff, youth tour representative Alexis Wagner, and information on electrical safety, SmartHub, energy efficiency, and billing demand.
"Access Energy Cooperative thoroughly and sincerely appreciates the assistance and participation from every individual and organization who help us makes this meeting happen for our members, including those unseen like Quality Equipment, the Mt. Pleasant VFW, the Iowa National Guard, Mt. Pleasant Trap Team, Staats, Midwest Old Threshers, the City of Mt Pleasant, Lance Refuse, Yotty's Golf Course, United Rentals, Printgroup, former employees and spouses of employees, Northeast Missouri Electric Power Cooperative and Associated Electric Cooperative, Inc. employees who helped," adds Kimberly Davis, Director of Member Services and Public Relations for the cooperative.
Following reports of the cooperative officers during the business portion of the meeting, election results were reported by the cooperative attorney. In District One, David Hollingsworth was elected. In District Two Allan Woline was elected. In District Three Michael Holtkamp was elected. After the annual meeting of members, during the annual board re-organizational meeting, each newly elected director was required to complete a board qualification sheet. At that time, it was determined that Mr. Woline did not meet the qualification criteria of being a bona fide resident of premises served by Access Energy Cooperative. As a result, it was determined that he was ineligible to serve as a director. In response to this discovery, the board of directors called a special meeting to address the situation. During this special meeting, it was voted to appoint Jerry Barker to fill the vacant seat until the next annual meeting of members to be held August 6, 2024. This decision allows for a qualified member from District Two to serve on the board until the next regular election, where the seat will be up for election again. At that time, the voters in District Two will have the opportunity to elect a director for the balance of the term, which will be two years.
Drawings were held for prizes, including the Grand Prize of a $500 bill credit, won by member Duane Copeland. Dividend checks for 2023 totaling $1,181,879 were available for members to pick up at the meeting. For those who were unable to make it to the meeting, checks will be mailed out the week of August 21st.
Following the meeting, during the annual reorganizational meeting of the board of directors, the following were elected as the officers of the Access Energy Cooperative Board of Directors: President Marvin Larson, Vice President Robert Chesnut, Secretary Michael Holtkamp, and Treasurer Robert P. Smith.