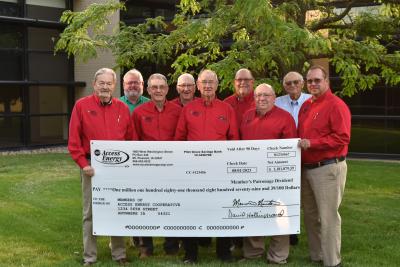 At Access Energy Cooperative, every member is an owner of the business. Unlike other electric utilities, your co-op exists to make sure your needs are met, not to make a profit. As a member-owner, you share in the margins earned in the form of dividend checks.
We work hard every day to keep your rates as low as possible. But it's nice to know that when there are margins earned, they go back to you!
Access Energy Cooperative offers special payment options of patronage dividends to estates and former members. If the dividend account is in the name of someone who has passed away or no longer receives electric service from Access Energy Cooperative, please submit the information below, or notify our office.
Access Energy is organized as a cooperative, owned by its members. As a cooperative, Access Energy does not earn profits. Instead, any revenues and other income over and above the cost of doing business during a given year are considered "margins".
A percentage of these margins is "allocated" to each member's dividend account for those members of the cooperative who bought power from us during the year. Patronage dividends are not the same as cash or stock. 
Access Energy is a member of a power supply cooperative, Northeast Missouri Electric Power Cooperative (Northeast Power), which in turn allocates their margins to their members. All patronage dividends allocated to Access Energy from Northeast Power are also allocated to our members.
At the March 2023 board meeting, your board of directors approved an allocation of $1,834,739. This amount included $668,935 that was allocated to us by Northeast Power. These allocations are added to each members patronage dividend account and notice is provided to each member receiving an allocation.
If you are a member of the cooperative, you have a dividend account. You are notified each year an allocation is made to your account. If you are a former member, you also have a dividend account until it has been paid in full.
Patronage dividends are held by the cooperative in your dividend account as capital contributions until paid back to the members in the form of patronage divided checks.
Patronage dividends are used for a variety of operating and capital costs and are typically repaid to members of record for the year in which they were earned. This membership capital allows us to conduct our daily business and to help reduce the cost of borrowing and hold down rates.
The board of directors considers a retirement of patronage dividends annually. When a patronage dividend retirement is authorized by the board, both the dollar amount and year(s) to which the refund relates are specified.
In 2023, your board of directors approved a retirement of $1,181,879. This amount included a portion from Northeast Power.
If you were a member of the cooperative during 2002, 2003, 2004, 2007, 2008 and/or 2022, you will receive a dividend retirement payment. Checks will be distributed at the annual meeting of members on August 1, 2023. Checks not picked up at the meeting will be mailed out after the meeting.
If a member becomes deceased or no longer receives electric service from Access Energy Cooperative, patronage dividends can be refunded on a discounted basis upon completion of the proper paperwork.
Your board of directors has also approved that for future dividends, members can request to receive their dividend check as a bill credit on their account instead of a check that is normally handed out at the annual meeting of members. Please contact us at 1-866-242-4232 or 319-385-1577 to request this change; or you can submit the form below to send us an email.