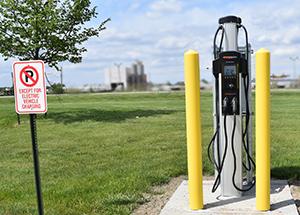 Are you thinking about buying an electric vehicle? Or just curious about them?
$250 Rebate for Charging Station
Access Energy Cooperative offers a $250 rebate for installation of an electric vehicle charging Station. Download the application and details here.
Information on Electric Vehicles
This area of our website is designed to provide you with information about electric vehicles. While a good portion of the electricity in our area comes from coal and natural gas generation, when you choose EV, you're likely producing less emissions than a traditional gas-powered car.
Click here for more information.
ChargePoint Level II Charging Station Installed at Access Energy Cooperative 
Access Energy Cooperative has installed a level II ChargePoint electric vehicle charging station in front of our office in the parking lot. It is available to any electric vehicle for charging. You will need a ChargePoint account to use it.
Simply download the ChargePoint App on your phone and hold your phone up to the charging station to start your charge.
If you don't have a ChargePoint Account, you can call the number on the charging station screen and they can remote start a charge for you
Click here for "electric vehicle charging 101" information and how to use the charging station at Access Energy Cooperative.