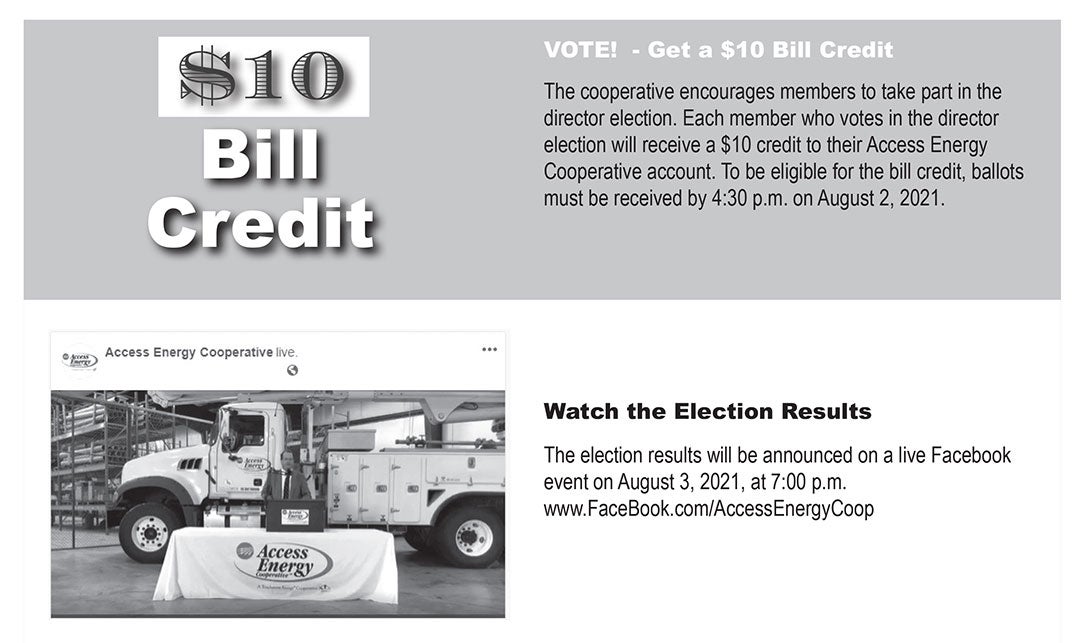 The Access Energy Cooperative 2021 Annual Meeting of Members will be held as a Facebook Live event at 7:00 p.m. on August 3, 2021, to announce the election results.
The decision of what format the annual meeting would be held in had to be made in February, when there were still many uncertainties surrounding the ability of large groups to gather. The Access Energy Cooperative Board of Directors  had to use current information available to make the decision and voted during their regular meeting on February 18, 2021, to modify the format of the 2021 Annual Meeting of Members to eliminate the in-person portion of the meeting and conduct the election of directors by mail and electronic voting.  No other business will be conducted.  This decision did not come easy for the board; however, Access Energy Cooperative feels it is the responsible choice to make. 
Vote For Directors and Receive $10 Bill Credit
We encourage members to take part in the director election. Any member submits a vote that is received by the 4:30 p.m. deadline on August 2nd, either by mail or electronically, will receive a $10 bill credit. Your voting materials will be mailed to you on July 7, 2021, and will include instructions. If you have a valid email address on your account, you will also receive an email with the voting instructions available to you with the click of a button. Each membership will be allowed one vote.
Dividends Paid Early
The board approved an early payment of dividends this year. For members with dividend payments greater than $25, a check was mailed in June. For members with dividend payments less than $25, dividends were applied to your electric account in mid-June. Member dividend accounts with less than $5.00 will accumulate until the year they reach or exceed $5.00.
Annual Meeting Returns in 2022 – Save the Date
The Access Energy Cooperative Annual Meeting of Members for next year will be on August 2, 2022.   Expectations are to return to a full agenda and all members will be encouraged to attend. We hope to see you at the 2022 Annual Meeting of Members on August 2, 2022.  
2021 Annual Meeting Video Reports
To review annual report videos, click on the photo below.
President Report                                     General Manager Report                            Treasurer Report