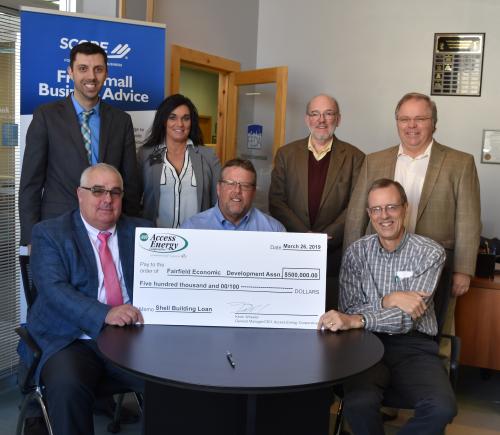 Groundbreaking took place in Fairfield, Iowa, on construction of a new 30,000 square-foot shell building in Fairfield's newest business & industrial park, following a ceremonial close on a $500,000 loan to the Fairfield Economic Development Association (FEDA) from the Access Energy Cooperative Revolving Loan Fund. The facility will be located on a three-acre parcel within FEDA's 61-acre Business & Industrial Park and will be marketed to businesses considering expanding within, or relocating to, Fairfield.
The project is a culmination of discussions which began in early 2016, to position the City of Fairfield for further growth and creation of new jobs.  By August 2016, a 28E partnership agreement was formalized between FEDA and The City of Fairfield, Jefferson County, Access Energy Cooperative, and Northeast Power; and sanitary sewer infrastructure was brought to the site with the assistance of a low interest loan from Access Energy Cooperative's revolving loan fund. Later that same year, the cooperative invested in 3-phase electric to the site – positioning the site for commercial and industrial development.
Last year, the USDA Rural Development awarded a $300,000 grant to the cooperative for the Fairfield shell building project. This grant, in turn, is available to FEDA in the form of a loan, plus $60,000 in matching funds from the Cooperative.
Kevin Wheeler, General Manager/CEO said, "Access Energy Cooperative and Northeast Power are pleased to partner with the Fairfield Economic Development Association, Jefferson County and the City of Fairfield to bring this building to fruition.  One of the key pillars upon which we are grounded is commitment to community, and we take great pride in assisting with economic development in southeast Iowa.  This project allows us to bring new development to this area, with great visibility to Fairfield.  We look forward to working with the partners in showcasing Fairfield and Jefferson County."
The construction of the shell building is expected to be completed by September 2019.