Cooking equipment fires are more common than you might think – causing nearly half of home fires.  According to the National Fire Protection Association (NFPA), an average 46 percent of home fires, 44 percent of fire-related injuries and 1 in 5 deaths result from cooking equipment each year.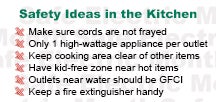 Access Energy Cooperative and Safe Electricity offer these tips to improve safety in the kitchen:
Inspect all small appliances and electric cords to make sure they are in good repair before using. Do not use appliances with cracked or frayed cords.

Read the operating instructions of any appliance before use.

When purchasing new kitchen appliances, look for UL-Listed appliances with automatic shut-off features.

Never plug more than one high-wattage appliance into a single outlet.

Keep cooking areas clear of other items, particularly items that could ignite, like oven mitts, wooden utensils, food packaging, etc. Keep the area clean and free of grease.

Stay focused and attentive to baking, frying, brewing, and simmering foods.

Have a "kid-free" zone of at least three feet in areas where hot foods and beverages are being prepared.

Make sure outlets near sinks are equipped ground fault circuit interrupters (GFCIs) to prevent shocks. Test them regularly.

Always have a working fire extinguisher on hand, and know how to operate it.
"Be alert to other safety considerations when working in the kitchen," warns Richard McCracken with the Safe Electricity Advisory Board. "Flickering or dimming lights and monitors, sparks