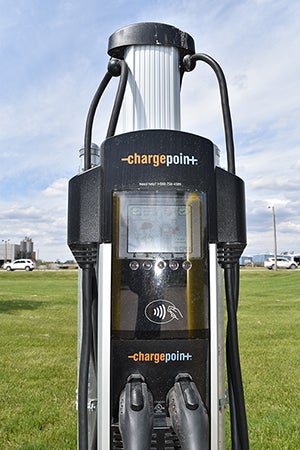 Access Energy Coop has installed a Chargepoint electric vehicle charging station in the parking lot in front of our office in Mount Pleasant, Iowa; and it is available for use.
WHO IS IT AVAILABLE TO?
The charging station is available for public use. You must have a Chargepoint account. If you do not have a Chargepoint account, it is easy to download the app and set one up. Or you can call the number on the screen at the charging station and they can remotely set things up for you and remotely start a charge.
Any electric vehicle can charge at a Chargepoint charging station, including a Tesla vehicle with the adaptor that came with the vehicle.
How Does the Charging Station Work?
It's easy! The user simply swipes your Chargepoint card or the app on your mobile device across the screen of the charging station and follow directions on screen to start a charge. Or just call the 800 number on the screen, and a Chargepoint team member will help get you started.
If you would like to watch a video that shows just how easy it is to charge with our charging station, there is a video available on our website, or you can access it at this address. https://www.youtube.com/watch?v=kS9WlsE1p8A&feature=youtu.be
What Does it Cost?
The current rate to use the charging station at Access Energy Cooperative is our regular single phase rate for electric service at $0.10 per kwh.
 
There is a free four-hour charging window. Vehicles parked in designated charging spots longer than 4 hours will be charged an "escalation fee" of $5.00 per hour for as long as they are parked there. The Chargepoint app can be set up to notify you when your four hours are close to being up, and also when your car is done charging.
If you have questions about charging electric vehicles, or whether or not an EV is right for you, visit our website at www.accessenergycoo.com  under the "Going Green" button for a section on electric vehicles.