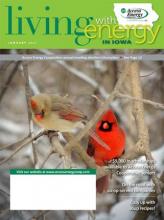 Along with providing you—the members of Access Energy Cooperative-- with pertinent information regarding what is happening at your co-op and in the utility industry, we are required by the Iowa Utilities Board to provide you with certain publications and educational information throughout the year. The member newsletter is the most economical tool available for us to communicate with our members.
Therefore, we are required to provide you with the Living With Energy Magazine in one format or the other each month. We are happy to announce that you can now choose whether you prefer to receive it as a printed magazine, an electronic copy—or both.
If you wish to receive an electronic copy of the newsletter, all you have to do is set up a SmartHub Account. Smarthub is available on our website by pushing the button above that says Access Account Online, or as an app to download on your mobile device. Once you have a SmartHub account, you will automatically receive an electronic version of the Living With Energy Magazine emailed to you at the address you provide in your SmartHub account.
We will not automatically remove you from the list to receive a printed copy when you sign up for SmartHub. If you are signed up for SmartHub and no longer wish to receive a printed copy of the Living With Energy Magazine, please call us at 1-866-242-4232, or send an email to us at mktg@accessenergycoop.com

.

If you are already a SmartHub user and do not wish to receive the electronically mailed monthly magazine, you simply check the box in your SmartHub account in the On Demand Notifications, that you do not wish to receive it emailed. You will continue to receive a printed copy.
Please continue to enjoy reading the Living With Energy Magazine in the format you choose!