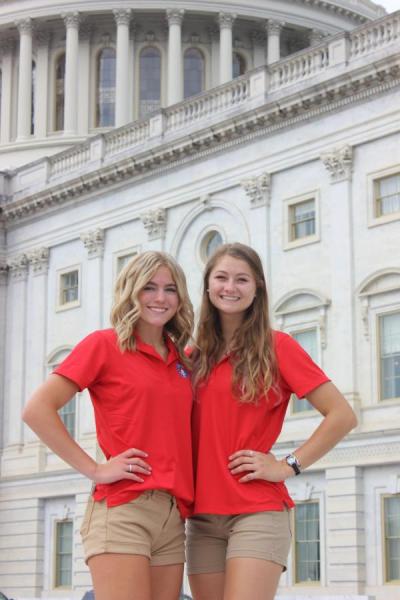 Andi Scott and Elsie Lange of Mount Pleasant recently participated in the Youth Tour of Washington, D.C., sponsored by Access Energy Cooperative. They spent June 19-24 in Washington, D.C., with 33 other student leaders from Iowa.
Each year in June, this weeklong leadership development program provides high school students opportunities to learn first-hand about government, the electric cooperative business model, and today's pressing issues in the energy industry. Students met their elected representatives in the U.S. House and Senate, toured historic sites, and ran their very own snack cooperative.
Andi and Elsie were chosen from applicants representing the entire 10-county service area of the cooperative to represent Access Energy Cooperative for the 2022 Youth Tour. In the fall, Andi will be a senior at Mount Pleasant Community High School. She is the daughter of Nathan and Danielle Scott. She participates in basketball, show choir, competition cheer, Chamber Ambassadors, church events and volunteers at Midwest Old Threshers. During the summer she works at the Mt. Pleasant Aquatic Center and mows lawns.
Elsie Lange, daughter of Nathan and Kelly Lange, will be a junior at Mount Pleasant Community High School. She participates in basketball, cross county, track, marching band, student council, Silver Cord, and helps tutor middle school students. Elsie is active in the Chamber Ambassadors program, Fellowship of Christian Athletes Club, Youth of Christ events, and is the leader of the Youthify Movement in Mount Pleasant. When she is not volunteering, she works at Jane Anne Boutique and babysits for several families.
During Youth Tour the IAEC was able to arrange for Iowa students to place a wreath at the Tomb of the Unknowns during their visit to Arlington National Cemetery. Elsie Lange was among the students chosen to represent Iowa in this ceremony.
The Electric Cooperative Youth Tour has been a joint effort of locally-owned electric cooperatives, such as Access Energy Cooperative, their statewide trade associations, and the National Rural Electric Cooperative Association (NRECA) for nearly 60 years. Access Energy Cooperative has been participating since inception of the program.